Communicable Diseases Surveillance consists of data from various sources. The National Notifiable Diseases Surveillance System (NNDSS) is conducted under the auspices of the Communicable Diseases Network Australia New Zealand. The Virology and Serology Laboratory Reporting Scheme (LabVISE) is a sentinel surveillance scheme. The Australian Sentinel Practice Research Network (ASPREN) is a general practitioner-based sentinel surveillance scheme. In this report, data from the NNDSS are referred to as 'notifications' or 'cases' whereas those from ASPREN are referred to as 'consultations' or 'encounters' while data from the LabVISE scheme are referred to as 'laboratory reports'.
Top of page
Vaccine preventable diseases
The number of pertussis notifications continued to fall with the number of cases having date of onset in April 1998 being lower than in any month since July 1996. In each of the previous four years (1994-1997), the number of notifications had been at a minimum in April, with an increase in the later months of the year. It will be interesting to observe the notifications in the next couple of months to see whether the downward trend continues, perhaps indicating an end to the current epidemic, or whether the number increases as in previous years.
Haemophilus influenzae
type b (Hib) notifications remain low with 14 notifications so far in 1998 compared to 20 in the same period in 1997. Similarly, measles notifications continue to be as low as they were in 1997 with 190 notifications in 1998, compared to 183 in the same period in 1997.
Top of page
Arboviruses
A further 44 notifications of dengue have been recorded for the current reporting period. The total number of cases with onset in 1998 was 219, of which 180 (82%) were from Queensland. This reflects the outbreak of dengue 3 in Cairns reported on page 109 (Figure 1). The figure also shows the 1996-97 Torres Strait outbreak of dengue type 2 reported previously (
Commun Dis Intell
1997;21:33). A small number of cases confirmed elsewhere in Australia appear to be related to the Cairns outbreak, but in most cases the disease was acquired overseas.
The number of new notifications for Barmah Forest virus infection and Ross River virus infection has also declined markedly over the last month (Figures 2 and 3 ).
Figure 1. Notifications of dengue, 1995 to 1998, by month of onset, and area of residence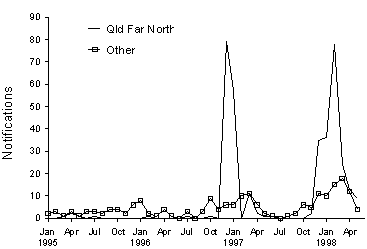 Figure 2. Notifications of Barmah Forest virus infection, 1995 to 1998, by month of onset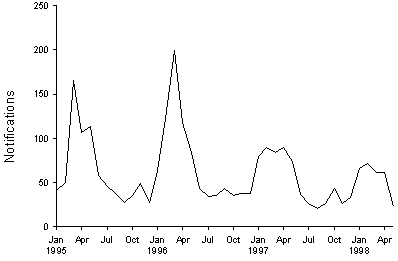 Top of page
Figure 3. Notifications of Ross River virus infection, 1995 to 1998, by month of onset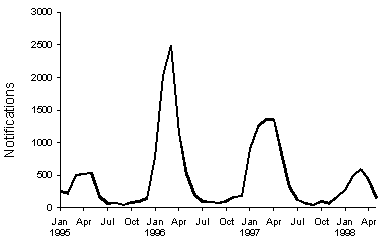 Top of page
Hepatitis A
The number of notifications for hepatitis A has declined since February (Figure 4). Of the 296 cases reported for the current period, 152 (51%) were in the age range 15-34 years; 192 of the 296 notifications (65%) were in males, the male:female (1.8:1 overall) being reflected in all age groups.
Figure 4. Notifications of hepatitis A, 1995 to 1998, by month of onset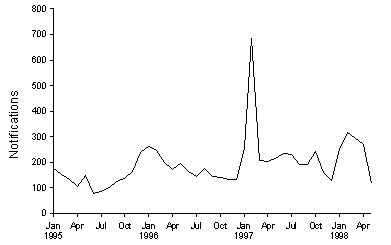 Top of page
Parvovirus
The number of laboratory reports of parvovirus has risen in recent weeks after falling markedly late last year (Figure 5). A total of 47 reports has been received for the year to date, most of which (43%) were for females in the 25-44 years age group.
Figure 5. Laboratory reports of parvovirus, 1992 to 1998, by month of specimen collection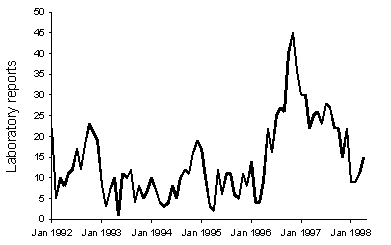 Top of page
Rotavirus
Laboratory reports of rotavirus remain low for the time of year (Figure 6). We can expect a rise in the number of reports in the coming winter months.
Figure 6. Laboratory reports of rotavirus, 1995 to 1998, by month of specimen collection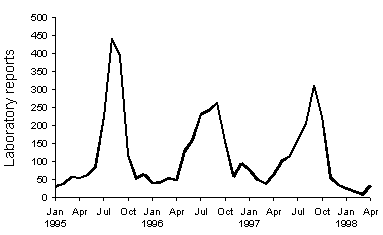 Top of page
Mycoplasma pneumoniae
The LabVISE scheme has recorded a decline in the number of reports of
Mycoplasma pneumoniae
in recent weeks (Figure 7). This follows a sustained rise in reporting throughout 1997.
Figure 7. Laboratory reports of Mycoplasma pneumoniae, 1992 to 1998, by month of specimen collection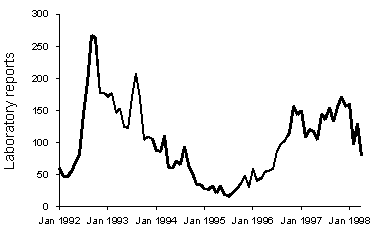 This report was published in
Communicable Diseases Intelligence
Vol 22 No 6, 11 June 1998.