A print friendly PDF version is available from this Communicable Diseases Intelligence issue's table of contents.

Communicable Diseases Surveillance consists of data from various sources. The National Notifiable Diseases Surveillance System (NNDSS) is conducted under the auspices of the Communicable Diseases Network Australia New Zealand. The CDI Virology and Serology Laboratory Reporting Scheme (LabVISE) is a sentinel surveillance scheme. The Australian Sentinel Practice Research Network (ASPREN) is a general practitioner-based sentinel surveillance scheme. In this report, data from the NNDSS are referred to as 'notifications' or 'cases', whereas those from ASPREN are referred to as 'consultations' or 'encounters' while data from the LabVISE scheme are referred to as 'laboratory reports'.


Reporting period 27 May to 23 June 1998
Vaccine preventable diseases
The number of notifications for
Haemophilus influenzae
type b, measles, mumps and rubella remains low in comparison with previous years.
Pertussis notifications for this reporting period and for the year to date are lower than for the comparable periods of 1997 (Figure 1). The number of notifications for pertussis with onset in May 1998 is lower than in previous months of this year. This contrasts with the situation in each of the of the previous five years where numbers have increased after April. Nearly half of all pertussis notifications with onset in 1998 were in the age groups 0 to 4 years (13%), 5 to 9 years (18%) and 10 to 14 years (16%). The male to female ratio was 1.13:1.
Figure 1. Notifications of pertussis, 1992 to 1998, by month of onset
Top of page
Arboviruses
A further 12 notifications of dengue have been recorded for the current reporting period, bringing the total reported in 1998 to 288. The outbreak in Far North Queensland appears to have subsided.
The numbers of new notifications for Barmah Forest virus infection and Ross River virus infection have also continued to decline over the last two months as expected for the time of year.
Hepatitis A
The peak in activity recorded earlier in the year now seems to be over.
Meningococcal infection
A slight increase has been observed in notifications of meningococcal infection during the last two months. Increased numbers of cases are usually recorded in Australia during the months of Winter and Spring (see report on page 134).
Top of page
Salmonella
The increase in the number of notifications recorded early in 1998 is similar to the seasonal pattern recorded in previous years (Figure 2). The number of cases has declined in recent months.
Figure 2. Notifications of salmonella, 1995 to 1998, by month of onset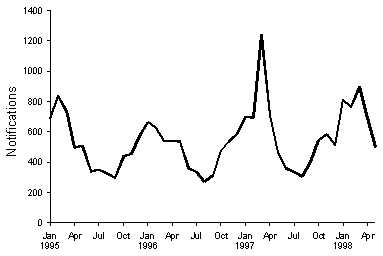 Respiratory syncytial virus
The number of laboratory reports of respiratory syncytial virus rose slightly in May but remained low for the time of year (Figure 3). For the current reporting period 50% of reports were for infants under the age of 1 year and a total of 88% for the under 5 years age group.
Figure 3. Laboratory reports of respiratory syncytial virus, 1996 to 1998, by month of specimen collection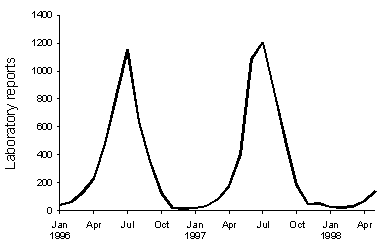 Top of page
Rotavirus
The LabVISE scheme has recorded a recent rise in the number of reports of rotavirus in recent months (Figure 4). Numbers are average for the time of year. Most reports in this four week period (88%) were for children under the age of 5 years.
Figure 4. Laboratory reports of rotavirus, 1996 to 1998, by month of specimen collection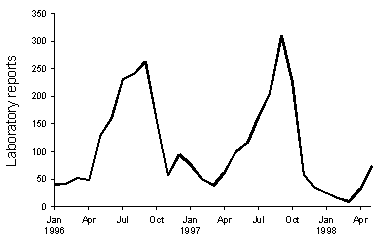 This report was published in
Communicable Diseases Intelligence
Vol 22 No 7, 9 July 1998.