A print friendly PDF version is available from this Communicable Diseases Intelligence issue's table of contents.
Communicable Diseases Surveillance consists of data from various sources. The National Notifiable Diseases Surveillance System (NNDSS) is conducted under the auspices of the Communicable Diseases Network Australia New Zealand. The Virology and Serology Laboratory Reporting Scheme (LabVISE) is a sentinel surveillance scheme. The Australian Sentinel Practice Research Network (ASPREN) is a general practitioner-based sentinel surveillance scheme. In this report, data from the NNDSS are referred to as 'notifications' or 'cases', whereas those from ASPREN are referred to as 'consultations' or 'encounters' while data from the LabVISE scheme are referred to as 'laboratory reports'.
Vaccine preventable diseases
When examined by date of onset, pertussis notifications increased in the July to October period of 1998 and appear to have now declined somewhat. The number of notifications with onset in December 1998 is the lowest since July 1996 (Figure 1). For the current reporting period, the highest proportion of notifications (21%) are in the 10-14 year age group and 12 per cent are in the 5-9 year age group. Twelve notifications were in children under 1 year of age. The male to female ratio was 1:1.14.
A similar pattern can be seen in the laboratory reports of pertussis from the LabVISE system (Figure 2).
Measles notifications remain at a low level. The completion of the primary schools vaccination campaign in the second half of 1998 combined with the moving of the second dose of MMR to be due prior to school entry (at age 4 to 5 years) and ongoing efforts to maintain a high level of vaccination coverage continue to move Australia into a measles elimination phase. Articles in this issue of
CDI
discuss the importance of enhanced measles surveillance during this phase.
Figure 1. Notifications of pertussis, Australia, 1992 to 1998, by month of onset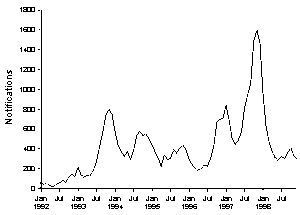 Figure 2. Laboratory reports for pertussis, Australia, 1992 to 1998, by date of specimen collection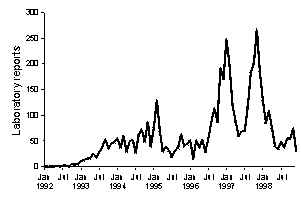 Arboviruses
An increase in the number of notifications for Ross River virus infection is expected at the start of the warmer months, with a peak of activity in the early months of each year (Figure 3). A higher number of notifications has been received for this reporting period than for the same period of last year. The majority of cases (84%) are in the 20 to 59 year age groups with the highest proportion (18%) in the 35 to 39 year age group. The male to female ratio is approximately 1.
The number of notified cases of dengue continues to be higher than historical data with most cases occurring in Queensland. Cases are reported fairly evenly over a wide range of age groups with most in persons between 10 and 64 years; the male to female ratio is 1:1.35.
Figure 3. Notifications of Ross River virus, Australia, 1992 to 1998, by month of onset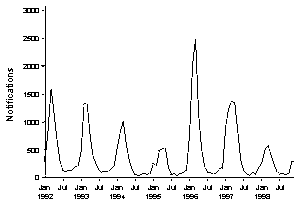 This article was published in
Communicable Diseases Intelligence
Volume 23, No 2, 18 February 1999.