Introduction
Australia's notifiable diseases status 2006, is an annual surveillance report of nationally notifiable communicable diseases. Communicable disease surveillance in Australia operates at the national, state and local levels. Primary responsibility for public health action lies with the state and territory health departments. The role of communicable disease surveillance at a national level includes:
identifying national trends;
guidance for policy development and resource allocation at a national level;
monitoring the need for and impact of national disease control programs;
coordination of response to national or multi-jurisdictional outbreaks;
description of the epidemiology of rare diseases, that occur infrequently at state and territory levels;
meeting various international reporting requirements, such as providing disease statistics to the World Health Organization (WHO), and;
support for quarantine activities, which are the responsibility of the national government.
Methods
Australia is a federation of 6 states (New South Wales, Queensland, South Australia, Tasmania, Victoria and Western Australia) and 2 territories (the Australian Capital Territory and the Northern Territory). State and territory health departments collect notifications of communicable diseases under their public health legislation. In 2006, the Australian Government Department of Health and Ageing (DoHA) did not have any legislated responsibility for public health apart from human quarantine. States and territories voluntarily forwarded data on a nationally agreed set of communicable diseases to DoHA for the purposes of national communicable disease surveillance.
Sixty-six communicable diseases (Table 1) agreed upon nationally through the Communicable Diseases Network Australia (CDNA) were reported to the National Notifiable Diseases Surveillance System (NNDSS). The system was complemented by other surveillance systems, which provided information on various diseases, including some that are not reported to NNDSS.
Top of page
Table 1. Diseases notified to the National Notifiable Diseases Surveillance System, Australia, 2006
Disease

Data received from

Bloodborne diseases

Hepatitis (NEC)
All jurisdictions
Hepatitis B (incident)
All jurisdictions
Hepatitis B (unspecified)*
All jurisdictions
Hepatitis C (incident)
All jurisdictions, except Queensland
Hepatitis C (unspecified)*,†
All jurisdictions
Hepatitis D
All jurisdictions

Gastrointestinal diseases

Botulism
All jurisdictions
Campylobacteriosis‡
All jurisdictions, except NSW
Cryptosporidiosis
All jurisdictions
Haemolytic uraemic syndrome
All jurisdictions
Hepatitis A
All jurisdictions
Hepatitis E
All jurisdictions
Listeriosis
All jurisdictions
Salmonellosis
All jurisdictions
Shigellosis
All jurisdictions
STEC, VTEC§
All jurisdictions
Typhoid
All jurisdictions

Quarantinable diseases

Cholera
All jurisdictions
Highly pathogenic avian influenza
All jurisdictions
Plague
All jurisdictions
Rabies
All jurisdictions
Severe acute respiratory syndrome
All jurisdictions
Smallpox
All jurisdictions
Viral haemorrhagic fever
All jurisdictions
Yellow fever
All jurisdictions

Sexually transmissible infections

Chlamydial infections (NEC)||
All jurisdictions
Donovanosis
All jurisdictions
Gonococcal infection
All jurisdictions
Syphilis (all)¶
All jurisdictions
Syphilis – <2 years duration
All jurisdictions
Syphilis – >2 years or unspecified duration
All jurisdictions
Syphilis – congenital
All jurisdictions

Vaccine preventable diseases

Diphtheria
All jurisdictions
Haemophilus influenzae type b
All jurisdictions
Influenza (laboratory confirmed)**
All jurisdictions
Measles
All jurisdictions
Mumps
All jurisdictions
Pertussis
All jurisdictions
Pneumococcal disease (invasive)
All jurisdictions
Poliomyelitis
All jurisdictions
Rubella
All jurisdictions
Rubella – congenital
All jurisdictions
Tetanus
All jurisdictions
Varicella zoster (chickenpox)
All jurisdictions, except ACT, NSW and Victoria
Varicella zoster (shingles)
All jurisdictions, except ACT, NSW and Victoria
Varicella zoster (unspecified)
All jurisdictions, except ACT, NSW and Victoria

Vectorborne diseases

Barmah Forest virus infection
All jurisdictions
Dengue virus infection
All jurisdictions
Flavivirus infection (NEC)‡‡
All jurisdictions
Japanese encephalitis virus infection
All jurisdictions
Kunjin virus infection§§
All jurisdictions
Malaria
All jurisdictions
Murray Valley encephalitis virus infection
All jurisdictions
Ross River virus infection
All jurisdictions

Zoonoses

Anthrax
All jurisdictions
Australian bat lyssavirus
All jurisdictions
Brucellosis
All jurisdictions
Leptospirosis
All jurisdictions
Lyssavirus (NEC)
All jurisdictions
Ornithosis
All jurisdictions
Q fever
All jurisdictions
Tularaemia
All jurisdictions

Other bacterial infections

Legionellosis
All jurisdictions
Leprosy
All jurisdictions
Meningococcal infection¶¶
All jurisdictions
Tuberculosis
All jurisdictions
* Unspecified hepatitis includes cases in whom the duration of infection could not be determined.
† In Queensland, includes incident hepatitis cases.
‡ Notified as 'foodborne disease' or 'gastroenteritis in an institution' in New South Wales.
§ Infection with Shiga toxin/verotoxin-producing Escherichia coli (STEC/VTEC).
|| Includes Chlamydia trachomatis identified from cervical, rectal, urine, urethral, throat and eye samples, except for South Australia, which reports only genital tract specimens; the Northern Territory, which excludes ocular specimens; and Western Australia, which excludes ocular and perinatal infections.
¶ Does not include congenital syphilis.
** Laboratory confirmed influenza is not a notifiable disease in South Australia but reports are forwarded to NNDSS.
‡‡ Flavivirus (NEC) replaced Arbovirus (NEC) from 1 January 2004.
§§ In the Australian Capital Territory, Murray Valley encephalitis virus infections and Kunjin virus infections are combined under Murray Valley encephalitis virus infections.
¶¶ Only invasive meningococcal disease is nationally notifiable. However, New South Wales, the Australian Capital Territory and South Australia also report conjunctival cases.
NEC Not elsewhere classified
Top of page
The national dataset included fields for unique record reference number; notifying state or territory; disease code; age; sex; indigenous status; postcode of residence; date of onset of the disease; death, date of report to the state or territory health department and outbreak reference (to identify cases linked to an outbreak). Where relevant, information on the species, serogroups/subtypes and phage types of organisms isolated, and on the vaccination status of the case was collected. While not included in the national dataset, additional information concerning mortality and specific health risk factors for some diseases was obtained from states and territories.
Notification rates for each notifiable disease were calculated using 2006 mid-year resident population supplied by the Australian Bureau of Statistics (Appendixes 1 and 2). Where diseases were not notifiable in a state or territory, national rates were adjusted by excluding the population of that jurisdiction from the denominator. For some diseases, age adjusted rates were calculated using the indirect method of standardisation, with 2001 census data as the standard population.
The geographical distribution of selected diseases was mapped using ARCGIS software. Maps were based on the postcode of residence of each patient, aggregated to the appropriate Statistical Division (Map 1). Rates for the different Statistical Divisions were ordered into 6 groups — the highest value, the lowest value above zero, those equal to zero, and the intermediate values sorted into 3 equal-sized groups. The Statistical Divisions in the Australian Capital Territory were combined to calculate rates for the territory as a whole.
Map 1. Australian Bureau of Statistics Statistical Divisions and population, Australia, by Statistical Division, 2006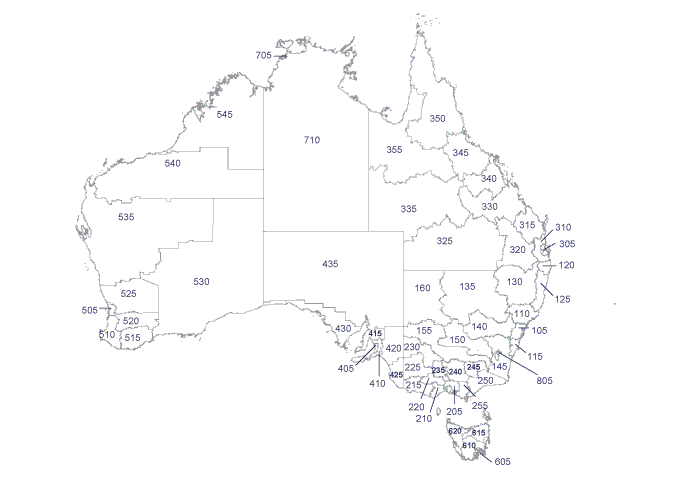 Top of page
Statistical Division

Population

Statistical Division

Population

Statistical Division

Population

Australian Capital Territory

Queensland, continued

Victoria

805
Canberra*
328,817
320
Darling Downs
226,430
205
Melbourne
3,684,461

New South Wales

325
South West
27,095
210
Barwon
273,997
105
Sydney
4,293,105
330
Fitzroy
193,182
215
Western District
102,141
110
Hunter
611,935
335
Central West
12,155
220
Central Highlands
150,412
115
Illawarra
415,248
340
Mackay
151,572
225
Wimmera
50,920
120
Richmond-Tweed
227,815
345
Northern
210,943
230
Mallee
93,415
125
Mid-North Coast
297,409
350
Far North
243,948
235
Loddon
178,091
130
Northern
181,078
355
North West
34,558
240
Goulburn
207,377
135
North Western
119,276

South Australia

245
Ovens-Murray
97,497
140
Central West
181,374
405
Adelaide
1,138,833
250
East Gippsland
84,222
145
South Eastern
204,854
410
Outer Adelaide
125,903
255
Gippsland
169,133
150
Murrumbidgee
155,281
415
Yorke and Lower North
45,190

Western Australia

155
Murray
116,870
420
Murray Lands
69,066
505
Perth
1,507,949
160
Far West
23,449
425
South East
63,580
510
South West
227,981

Northern Territory

430
Eyre
34,979
515
Lower Great Southern
55,259
705
Darwin
113,955
435
Northern
77,105
520
Upper Great Southern
17,609
710
NT – balance
92,733

Tasmania

525
Midlands
52,214

Queensland

605
Greater Hobart
205,510
530
South Eastern
53,708
305
Brisbane
1,820,375
610
Southern
36,176
535
Central
60,167
310
Moreton
868,985
615
Northern
138,562
540
Pilbara
40,132
315
Wide Bay-Burnett
264,201
620
Mersey-Lyell
108,700
545
Kimberley
35,865
910

Other territories

2,691
Total Australia
20,605,488
* Includes Statistical Division 810 'Australian Capital Territory – balance'.
Information from communicable disease surveillance is disseminated through several avenues of communication. At the fortnightly teleconferences of the CDNA the most up-to-date information on topics of interest to the network is provided. The Communicable Diseases Intelligence (CDI) quarterly journal publishes surveillance data and reports of research studies on the epidemiology and control of various communicable diseases. Disease surveillance summaries from the NNDSS are published on the Communicable Diseases Surveillance section of DoHA's web site.
Top of page